Galvanized Steel Bar Grates - Anti-Slip Structural Safety Tread Plates
Quick View
Bar grating is a rugged, one-piece constructed panel widely used as building material in construction. The steel bar GI grating serrated sheet is popularly used in construction of the ground for the tunnels, bridges, highway, airport and wharf, oil offshore projects and oil industrial tanks. Welded Steel Grating Panels have robust structures for the support of floors and walkway treads. It can be used for ceiling, interior decoration, platform aisle, ventilation windows, (Wells), advertising plaque and other parts for different construction projects. The use of bar grating can strengthen the concrete parts to reduce surface breaking ratio.
Welded Bar Grate Panels for Industrial Flooring and Flatforms
Square or rectangular holes available. Made by stainless or mild steel of certain sizes. Through the processing of grooving, lock-pressure, welding, finishing and other treatment.
Materials:
Materials applied: mild steel, galvanised, stainless steel 304 or 316
Surface treatment: galvanizing, bitumen dipped, painted, untreated.
Top surface: plain, flattened, raised.
Wire diameter for welded steel bar panel ranges from 5mm to 16mm.
Welded bar panel opening: 75mm to 300mm.
Panel length: 100cm to 1400cm.
Panel width: 100cm to 300cm.
Welded grating offers the following advantages compared with steel grid sheets:
Steel grate panels have light weight, good strength, large carrying capacity and can save materials and cost. It offers good ventilation of light and wind, a modern sense, aesthetic appearance and anti-skid safety. It is also easy to clean, easy to installation and durable for uses.
Structures and Uses
Welded steel bar floor grate is made with the bearing bars automatically welded at the contact point with the cross bars. Under a combination of high heat and pressure, the carbon steel bars are fused together to form a permanent joint. The cross bars provide a high degree of rigidity, yet retain a smooth flat panel surface for free and easy walking.
Bar grate panels are the most popular at many flooring panels and tread plates for its strength, low cost and easy of installation. The grating universally is used in most general industrial plants as well as commercial buildings. It is also ideal for use as mezzanine decking since it supports the same loads as comparable solid flooring. More than that, its cost saving openness maximizes the circulation of air, light, heat, water and sound, while promoting cleanliness. And, where insurance codes permit, additional sprinklers can often be eliminated. Standard panels are available in widths of 2', 3' or 4'.

Press-Locked Steel Mezzanine Decking Grate, Antislip Ladder Cover for Tanks

Carbon Steel Metal Sheet for Draining Covers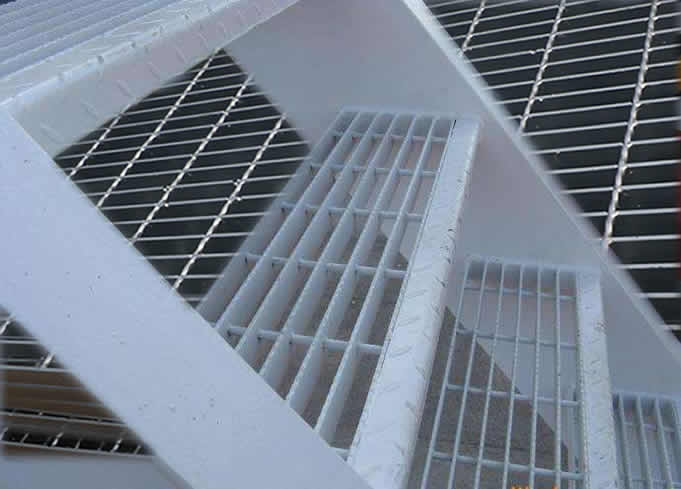 Welded grid ASTM A-36 1" x 3/16" square braided cross bar ¼ " hot-dip galvanized ASTM A-12.
Please specify the following when ordering our gratings:
1.Center to center distance of the grating bars;
2. Panel width;
3. Panel length;
4. Bar width
Typical center to center distances of the grate floors:
- 30mm Gratings: This is the strongest industrial steel gratings. Widely used in metallurgy, drainage, stair treads, chemical plants, walkway, etc.
- 40mm Gratings: This is the most economic type widely used for light bearing surface, walkway, stair gratings, etc.
- 60mm Gratings: This kind is special for mine industry gratings.
Looking for other flooring products? Click here. Welcome to contact us with your specific requirements.