Y Type Steel Fence Post
Quick View
Y post is a kind of security fence post with y arm support for barbed wire and concertina wire coils. The fence post finishes include Black Painted, HDG ( hot dip galvanized), PVC Coated and Epoxy Coated. The steel fencing tubular post is used together with mesh panels to form a high secuirty fencing system. Y Post Fence Systems include Welded Mesh Security Fence with Concertina Razor Wire Fence, Y Post + Field Fence, Perimeter Fencing, Y Post Security Fence with Barbed Wire, and other types.
Black Painted and Hot-dipped galv. Steel Fence Posts
Black Y Post
Finish: 1.5,  1.85, 1.9, 2, 2.04 kg/m  black painted
Y Posts, Black Bitumen Painted, Fence Post, Coating 2.04 kg per meter.
Options: 1.9kg/M, 45cm, 60cm and 90cm fence post are all 1.5kg/m
| | | |
| --- | --- | --- |
| Coating | Length m | Kg/M |
| Black | 0.45 | 1.5 |
| Black | 0.60 | 1.5 |
| Black | 0.90 | 1.5 |
| Black | 1.35 | 1.9 |
| Black | 1.50 | 1.9 |
| Black | 1.65 | 1.9 |
| Black | 1.80 | 1.9 |
| Black | 2.40 | 1.9 |
Hot dipped galvanized and PVC Coated Y Profile Post
Post (Y profile): 60X80X3.0mmX3.7m
Surface finish: Galvanized and PVC Coating
Color:Green
Supplied in fencing set.

One set includes one fence panel, one post and its accessories.
Fence Panels:
Wire diameter before PVC Coating: 4.0mm
Mesh:76.2X12.7mm
Height X Length: 2.5X2.5m
Y Type Steel Fence Posts for  Australia Market
As per following drawing:

Post, Fence, Metal, Finish: Epoxy Coating Primer and full gloss epoxy.
Color: Black
Length Options: 2440 long fence post, 1800mm or 610 mm long.
Welded Mesh Security Fencing System with Fence Panels, Y Crank Posts, Barbed Wire and Razor Wire
Specifications: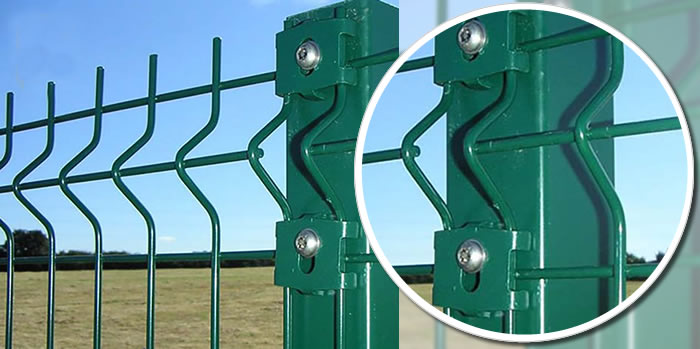 Welded Mesh Panel
Steel Wire:
11 Gauge -0.120" (3.0mm) with PVC coating as ASTM
F2453 - Horizontal
Flat Bar:
Vertical Reinforcing Flat bars 15mm wide x 5.0mm thick
(±2%) placed at 75mm (±2%) intervals
Mesh Size: 76.2mm x 12.70mm
Panel Size: 2.80Mtr High x 2.91Mtr Wide
With 3D Bending: – 3 No's.
2.80Mtr High x 2.91Mtr Wide
Concertina Razor Wire
Nr. Of Rows: 03 No's
Diameter of Wire: 600 mm Diameter (±50mm)
Blade: SS - 316 Blades
Turns/Coil: Galvanized Core Wire Dia 2.50mm(± 0.2mm), Loops 24
(±1) as per ASTM F1910
Barbed wire
Nr. Of Rows. 03 No's
Diameter of Wire: 12.5 - 0.098" (2.50mm) Gauge GI Wire according to
ASTM A121 or ASTM A641,Class 111, With 14 gauge, 4.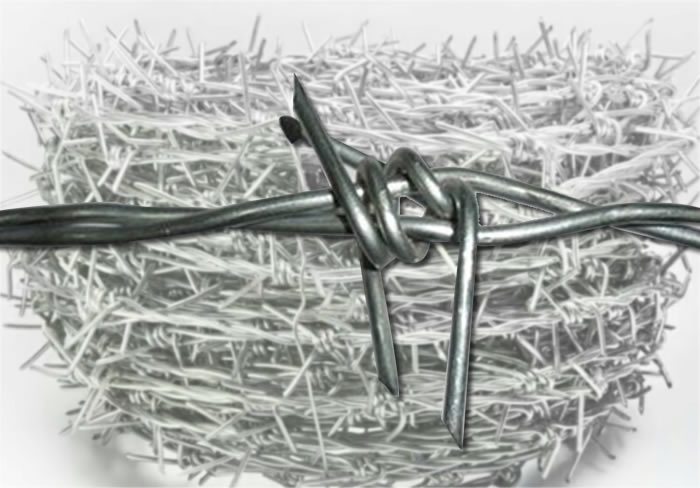 Line Post/ Corner Post/ End
Post/ Pull Post
Pipe Dia 88.90mm, SCH. 80 in accordance with ASTM
A53.
Line Post: Post length: 3700mm, outside diamter in mm: 88.9, wall thickness: 7.62mm, weight: 15.27 kg/m.
Post Length - 2.70Mtr above ground + 1.0mtr Below + 0.45 Mtr Y crank
( Refer the attached drawing for Crank
Specification)
Post Interval - 3.0 meter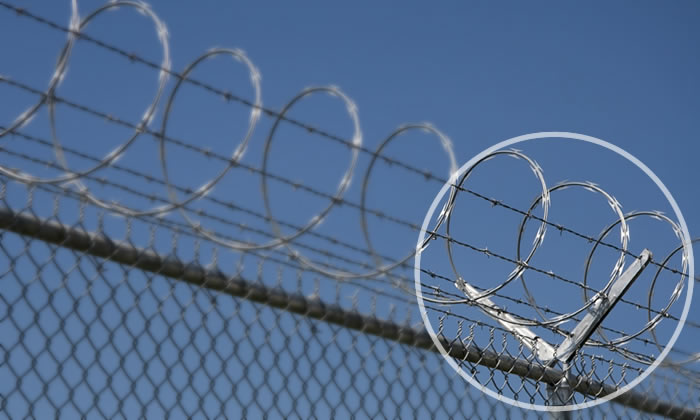 Strut
Pipe Dia 60.30mm, SCH. 40 in accordance with ASTM
A53 at every 3m
SCH. 40 Wall Thickness (3.91mm Thickness)
Post Length 3.0 meter.
Materials
All steel materials should be Hot Dip Galvanized as per ASTM A123 and pvc coated.
Check PDF File for High Security Fence with Detailed Specifications.
Drawing Reference: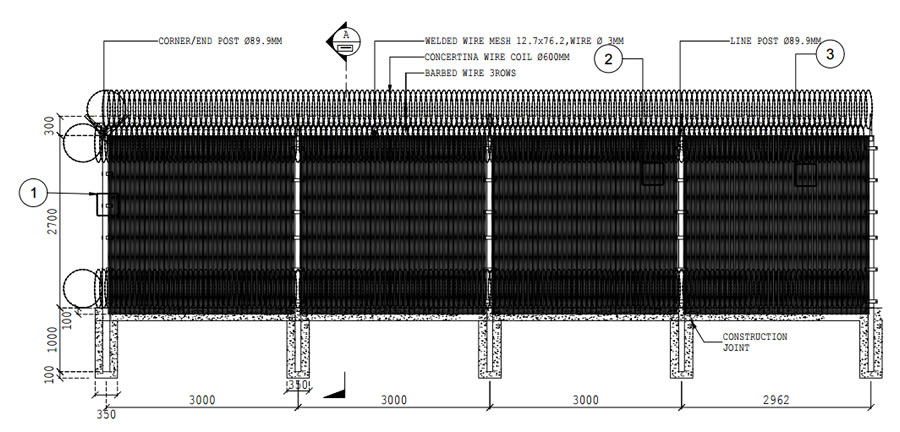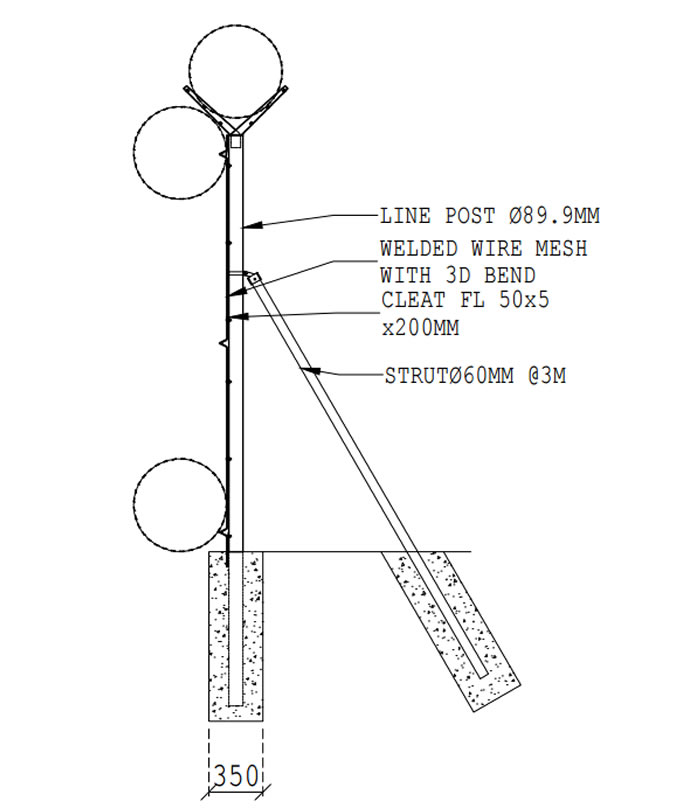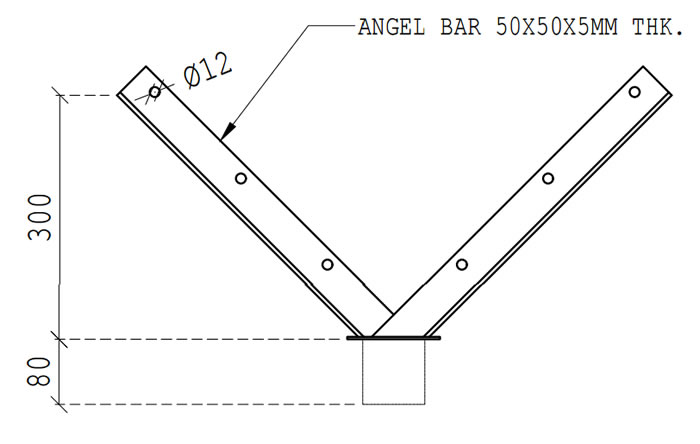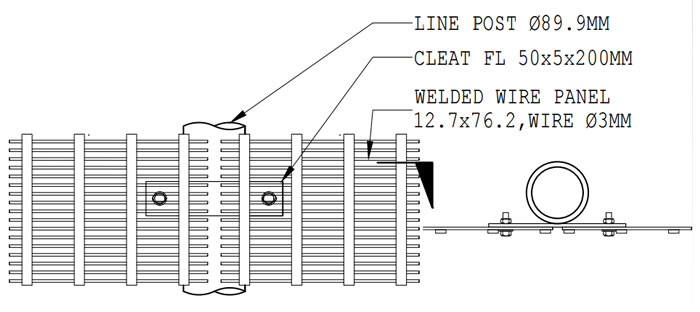 Perimeter Fences for Camps, Airports and Other Sites Security

Perimeter Security Steel Fencing, with 358 (3.05mm x 50.8mm) type welded mesh panels, posts, y arm, barbed wire or concertina wire, steel cable barrier.

Fence height: ground to top of mesh-2000mm mesh height: 2500mm( extra 0.5m buried mesh)
Wire Mesh: Welded, Steel Mesh, 3.05mm wire dia(0.120"=11gauge) x 50.8mm(2")mesh
Foundation post: minimum 700mm below ground
Zinc Coating: 160g per square meter
0.5m Y-arm for attaching barbed wire or concertina wire.
Barbed wire (minimum 3 rows per arm at 250mm spacing)
Optional BTO22 concertina barbed wire(stretched diameter of 820mm) .
Every camp fence must include 2 vehicle swing gates(3000mm width) and 2 pedestrian gates(1500 mm width), also tension system.
Post should be not less than 76mm overall diameter and tube wall thickness to be 2.6mm minimum for the line posts and 3.6mm minimum for end and corner post.
Security Steel cable that meets a K4 for the vehicle entry point that is aligned with a fence line, on either side of the entry,that also has the same level of protection. A K-4 rated fence solution would be able to stop a 15000 lb vehicle traveling at 30 mph.
Specialized installation tools required for fence installation.
Mesh Panels:

Y Post and Field Fence
Y posts are used with knotted mesh hinged or fixed or square knots, to form a field fence. Used as game fencing, cattle fencing, goat fencing or deer fence.
Black bitumen Y Post:
Post with holes heavy gauge ( 2,3 -2,5 kg / ML- ).
Post length of 1850 - 2150, 2450mm
Field Fence:
Dimension 13-188-15/30.
The Hinge Joint Knot required to joint the horizontal and vertical wire is as following picture: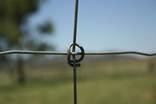 Knotted mesh of high tensile steel wire, galvanized. Knot Options: Hinge joint, fixed knot, square knot.
Security Fence Post with Chain Link Mesh, Barbed wire and Concertina wire

Y Shape Security Fence, Chain Link Fabric, Pipe Post, Single Concertina wire coil and three layers of barbed wire.
Post: 2-1/2" dia Pipe Galvanized steel.
Double door gate: 19' High x 9.5' Wide each gate.
The fence consists of wire mesh panel, gate and 2-1/2" pipe frame (including fasteners and accessories).
Mesh Type: Chain Link Netting.

Y Section Post Barbed Wire Fencing for Zambia
Barbed wire: 2 strand
Fence standard Y –section: 2m or 1.8m.
Fence stay round 1.8m x 38mm MD
Fence Post Round Pipe: 2m
Wire mesh 0.6m x 0.71 x 13mm