Stainless Steel Mesh Welded Netting, Sheets and Rolls, Available in SS304, 302 or 316
Quick View
Stainless Steel Mesh is processed by welding of corrosion resistant stainless wire 304, 302 or 316 grade. SS meshed wire is widely used in mining, building, transportation, agricultural, fencing and fabricating uses.


302 Grade wire mesh rolls for rabbit cages making
Stainless Steel Welded Mesh Fabric offers better strength, integration and longer work time compared with galvanized mesh products. Welded ss mesh is durable, corrosion resisting and firm in structure.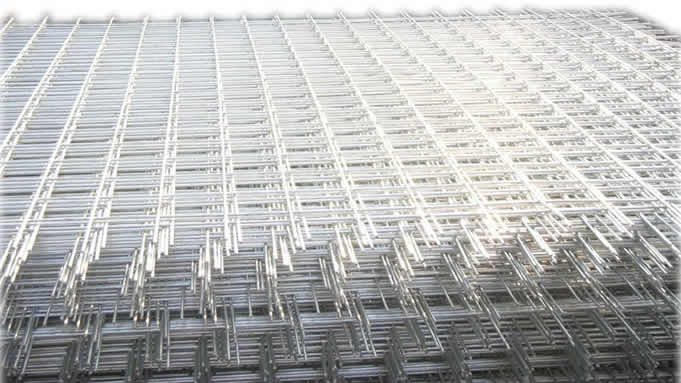 Stainless steel mesh panels welded in uniform structure, opening 6x6, for reinforcing used in concrete construction
Features:
High quality stainless steel Type 304 and 316.
Superior character of anti-corrosiveness and rust resistance.
Electrically welded for firm welding point, structure and strong collectivity.
Uniform meshes and flat even surface.
A Variety of meshes and sizes selection.

Applications:

Civil Use: As security & isolation fencing for pedestrians pavement, transport center and other public places;
Agriculture and Forestry: Fencing for goats, horse fencing and fencing for farms and livestock;
Fabricated into containers, gabion baskets, cages and baskets;
Transport: Decking, racking and partition panel fabricating;
Mine Exploitation;
Industry & General Use: For food industry, machine protection, cages, mesh support for cable and pipe, fan guarding sheet for fans and ventilation devices, etc;
Construction and building.
Popular Specifications
Mesh
Wire diameter
Inch
mm
BWG
mm
1/4"x 1/4
6.4x6.4
21-31
0.25-0.80
3/8"x 3/8"
10.6x10.6
19-25
0.50-1.00
1/2"x 1/2"
12.7x12.7
17-30
0.30-1.50
5/8"x 5/8"
16x16
21-30
0.30-0.80
3/4"x 3/4"
19.1x19.1
16-27
0.40-1.60
1"x 1/2"
25.4x12.7
16-25
0.50-1.60
1-1/2"x 1-1/2"
38x38
16-25
0.50-1.60
1"x 2"
25.4x50.8
14-22
0.70-2.00
2"x 2"
50.8x50.8
14-15
2.00-2.20
3"x 3"
76.2x76.2
4-14
2.00-6.00
Considering Weld Mesh Fabric of less cost material? Click here. Welcome to contact us with your specific requirements.