Galvanised Square Hole Hardware Cloth for Poultry Fencing, Partitions, Insect Netting and Tree Guard Uses
Quick View
Hardware wire cloth is suitable for various industrial screening or fencing uses. The holes can be rectangular or square. Surface treatment can be hot dipped galvanized, vinyl coated or black steel. The hardware mesh is mainly used for window and door insect screening, chicken coops, rabbit netting, tree guards, drains covering sheet, gutters mesh grid, sifting screen cloths, machine shielding netting and other fencing uses.
Common Mesh Opening : 1/2" x 1/2" , 1" x 2", 1" x 1", 3/4" x 3/4", 1/2" x 1/2", 1/2" x 1",1/4" x 1/4" , 2 " x 2", 3/8" x 3/8".
Wire gauges: 16,17, 23, 24, 25, 26.
Varieties
Hot Dipped Galvanized Square Mesh Mine Sifting Filter Cloth;
Vinyl Coated Mesh Hardware Cloth for Chicken, Rabbit and Poultry Fencing;
Galvanized Hardware Cloth Gutter Covering Fabric and Poultry Enclosure Netting;
Square Hole Water Draining Hardware Mesh, Tree Protection Guarding Mesh Welded and Garden Plant Support Trellis Fencing;
PVC Coated Hardware Mesh Insect Screening for Windows and Doors Against Mosquito;
Welded Hardware Cloth Euro Garden Fencing.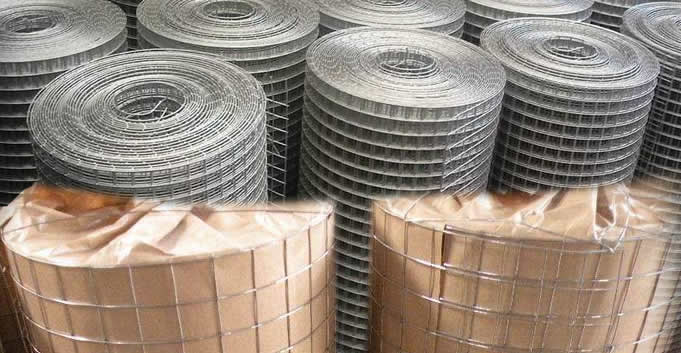 2x2 1 inch galvanized welded mesh for sifting, screening and seperating.
Hot dipped galvanized hardware cloth has stronger and durable surface over the electro galvanizing, and it costs a bit higher.

Gauge 16 x 4 x 4 Mesh Hot Dipped Galvanised Square Hole Mesh Cloth
Black Vinyl Coated Galvanised Hardware Cloth for Chicken Coops, Rabbit Basket, Agriculture, Building, Transportation, Mine, Lawn, Cultivation, Guarding, Architectural Decoration, Machine Protection, Mesh Partitions:

Black Vinyl Coated Machine Shielding Wire Cloth, Opening 1/2"X1/2" x BWG16 Wire Gauge
Vinyl coated mesh is supplied in more beautiful and multicolors compared with traditional black mesh cloth, galvanized ones. This wire cloth is made of galvanized wire or redrawing galvanized wire then vinyl coated to achieve better corrosion resistance.
Black is the most popular vinyl coating color and common sizes for this kind of hardware cloth as follows:
1/4"X1/4" BWG23
3/8"X3/8" BWG19,20,21,22
1/2"X1/2" BWG16,17,18,19,20,21,22,23,24
3/4"X3/4" BWG16,17,18,19,20,21,22
1"X1/2" BWG16,17,18,19
1"X1" BWG14,15,16,17,18,19,20,21
1"X2" BWG14,15,16
2"X2" BWG14,15,16,18
Galvanised and Powder Coated Hardware Cloth for Mosquito Netting, Window Screening
Typical Sizes:
5/8" x 5/8", Wire Gauge 18,19,20,21;
3/4" x 3/4", Wire Gauge 16,17,18,19,20,21;
1" x 1/2", Wire Gauge 16,17,18,19,20,21;
1-1/2" x 1-1/2", Wire Gauge 14,15,16,17,18,19;
1" x 2", Wire Gauge 14,15,16;
2" x 2", 12,13,14,15,16
Standard roll length: 30m;width: 0.5m to 1.8m
Special sizes welded wire mesh is available at request
Packing: Wrapped in waterproof paper in rolls. Then in cartons or in pallet.
Welcome to contact us with your specific requirements.