Anti Climb Perimeter Secure 358 Welded Mesh Fence System
Quick View
358 Welded Mesh Panel is a small opening secure screen well known as an effective anti-climb & anti-cut through fencing solution. The aperture of 72.2mm horizontal x 8.7mm vertical makes this mesh panel extremely difficult to penetrate. The close 358 mesh structure provides the lowest level of visual impact to the surroundings. The panels are welded with high quality carbon steel or stainless steel wires. Also called 358 security mesh, prison mesh. 358 Mesh is commonly used with razor wire coils and concertina ribbons along the top of panels to form maximum security.
358 Galvanized Steel Welded Mesh with Epoxy or Polymer Coating
Inner aperture:72.2×8.7mm 
Wire diameter:4mmm
Width: to 2.9m
Tensile of the wire: 600-750N/m2
Welded strength: 60%-80%
Height: up to 4.8m
Fence post: 80 x 60mm, 80 x 80mm or 120 x 60mm.

Perimeter Security Steel Fencing Barriers with Mesh 76.2x12.7mm, Wire Diameter 5mm
Features and Uses:
358 Fencing System is designed to give attractive, long lasting and secure perimeter protection for industrial and commercial properties, public utilities. The close mesh welded sheet is suited for electronic alarm and detection systems without blind spots. It is also a good choice for Military, airports, secure units and prisons.
Specification of 358 Prison Mesh
Mesh
Wire Thickness
Surface Treatment
Panel Width
Height
76.2x12.7
mm
Horizontal wire: 3.0mm, 3.5mm, 4.0mm
Vertical wire: 4.0mm
Galvanized and Electrostatic polyestercoated or Hot dipped galvanized
2.50m or 2.20m
1800mm
2000mm
2100mm
2200mm
2400mm
2500mm
3000mm
Coating Treatment: 358 welded steel mesh is treated with marine grade heavy plastic powder coating after galvanised. 8 to 10 feet height is common size for black powder coated steel 358 mesh, fitted with 11 feet length posts black powder coated and other fittings. Galvanized and green powder coating also available.
The type of mesh fence is anti-cut, anti-climb, water resistance powder coated with marine grade Plastic. Popular product is ½" x 3" 8 gauge galvanized, and ½" x 3" 10.5 gauge GAW plus heavy duty PVC coating. Wire: 4 mm, galvanized + powder coating. General installation height is 1.5 m.

358 Mesh Fence, Hot Dipped Galvanised & Powder Coated, 2.4mts high x 2550mm long, Including all posts and fixings.

Also: Welded Mesh Panels with Standard Galvanising Finish for Security Screen Uses
Safety screen mesh: 25x25x3 in black
or standard galvanised finish.
Mesh is to be galvanised after fabrication of the welded mesh instead of using the pre-galvanised wire.
Razor Barbed Wire for Security Mesh Panels
A kind of modern security fencing materials fabricated with razor-sharp steel blade and high-tensile wire. Barbed razor wire can frighten and stop the aggressive perimeter intruders. With piecing and cutting razor blades at the top of the welded mesh panel, such special design makes climbing extremely difficult. The razor wire strips are hot dipped galvanized to prevent corrosion.
Assortment:
Stainless steel razor wire;
PVC coated razor barb wire;
Electric galvanized razor barbed wire,
Hot dipped galvanized razor barbed wire.
Features:
1. High security
Barbed razor wire with the sharp razor guarantees a high security whilst retaining high quality.
2. Long life
Razor wire material of stainless steel or hot-galvanized makes sure for long life and low maintenance.
3. Easy installation
Short sections needed for urgent security can be installed extremely fast and with little equipment, allowing repairs to be carried out without compromising perimeter security.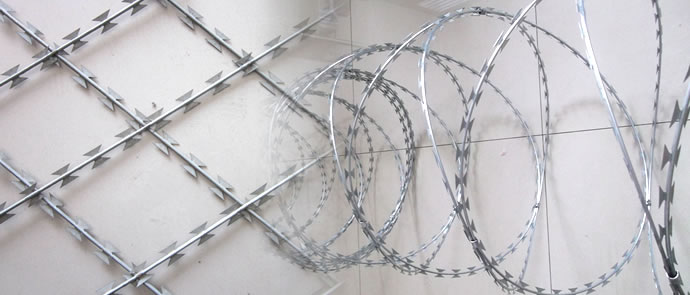 Razor Type HDG Steel Barbed Wire Strips, supplied in single coil or crossed concertina, for security fencing uses

BTO-12 Blade Type Razor Wire, 12mm barb length, 15mm barb width.

Hot Dip Galvanized Iron CBT-65 Blade Razor Barbed Wire, with 65mm blade width, 101mm blade spacing

BTO-22 Style Galv. Iron Razor Wire, with blade length of 22mm, blade spacing 36 mm
Reference
Number
Blade Style
Thickness
Wire Dia
Blade / Barb 
Length
Blade / Barb 
Width
Blade / Barb 
spacing
BTO-10
0.5±0.05
2.5±0.1
10±1
13±1
25±1
BTO-12
0.5±0.05
2.5±0.1
12±1
15±1
25±1
BTO-18
0.5±0.05
2.5±0.1
18±1
15±1
35±1
BTO-22
0.5±0.05
2.5±0.1
22±1
15±1
36±1
BTO-28
0.5±0.05
2.5
28
15
46±1
BTO-30
0.5±0.05
2.5
30
18
46±1
CBT-65
0.6±0.05
2.5±0.1
65±2
21±1
101±2
Barbed Tape Concertina (BTC);Barbed Tape Obstacle (BTO) 
Standard materials are either galvanized or stainless steel. 
Standard packages products are shown in the tables above, special specifications available on request. 

Barbed Tape Wire Specification:
| | | | | |
| --- | --- | --- | --- | --- |
| Outside Diameter | No. of Loops | Standard Length per Coil | Type | Notes |
| 450mm | 33 | 8M | CBT-65 | Single coil |
| 500mm | 41 | 10M | CBT-65 | Single coil |
| 700mm | 41 | 10M | CBT-65 | Single coil |
| 960mm | 53 | 13M | CBT-65 | Single coil |
| 500mm | 102 | 16M | BTO-10.15.22 | Cross type |
| 600mm | 86 | 14M | BTO-10.15.22 | Cross type |
| 700mm | 72 | 12M | BTO-10.15.22 | Cross type |
| 800mm | 64 | 10M | BTO-10.15.22 | Cross type |
| 960mm | 52 | 9M | BTO-10.15.22 | Cross type |
Welcome to contact us with your specific requirements. You can choose mesh panels, or barbed tape or a complete system.