Hot Dip Galvanised Welded Mesh in Modular Panels, Supplied with Fence Posts and Razor Barbed Wire
Quick View
Framed Standard Welded Mesh Panels are widely used for zoo fencing, road fencing, temporary fencing, airport fencing, railway fencing and various security fencing applications. Steel posts: T post, star picket and Y post are provided with fence panels. Barbed tape concertina security toppings are strongly recommended especially when welded fence systems are designed for vulnerable sites, like jails, military sites, airdrome, high security border barriers. Heavy gauge and small mesh high security panels upon request. Surface treatment is commonly electro galvanizing, hot dipped zinc coating, plastic coating or vinyl coating. Hot dipped zinc coated welded mesh fence offers thicker zinc plating than electro galvanized one and stronger zinc plating adhesion, while costs a little higher. Plastic coated or vinyl coated wire fence has more colors available than galvanized welded fences.

Fencing Panels for highways, railways, airplanes, residence communities, gardens, and emergeny events temporary control.

Bending triangular hole mesh in 3 dimensional sheet, framed with square-shaped tube post for community uses.
Roll Top Welded Mesh Fence System
Roll top mesh is a kind of spot welded mesh panel fence, offering firm and strong surface. This framed mesh fence offers high safety and more rigidity with a rolled panel top and bottom edge treatment. The common panel width is 3000mm and the the panel length are popular from 900 to 1800mm. Mainly used as schools fencing, sports, parks & play grounds fencing.
The posts with plastic caps connect with the panels while retaining high rigidity. Accessories ensure the easy installation.
Loop Rolled Mesh Panels Types:
Mesh Type
Mesh Type
Mesh Type
Hight
Width
Line wire x cross wire
Nos. Of curves
Post length
Nos. Of brackets
50x200 
60x150 
65x150 
900
2500/2750/3000
4.0x4.0  
2
1600
3
1200
2500/2750/3000
2
2000
4
1500
2500/2750/3000
2
2200
4
1800
2500/2750/3000
2
2500
4
2400
2500/2750/3000
4
2800
6
 
Rolltop folded fence panels have loops at the top and bottom edge, panels incorporating 'V' shape reinforcing folds ensuring more security barrier.
Post (4 options with different sections)
•60x60mm and 50x50mm SHS steel Post
•40x60mm RHS steel post
•50x70 and 70x100 Peach shape post
•48mm and 60mm Round section post
Post Fittings
•Plastic Clamps and rain hat
•Metal Clamps and rain hat
3 D Mesh Panels with Curved Top Panels

3 Dimentional Wire Mesh Perimeter Fence 10mm thick wire, 88.9mm square opening, panel size 1,219mm x 3,048mm, steel and or pre galvanized steel, with pvc coating.
Benefits
Safe;
Aesthetic appearance;
High rigidity;
Excellent through vision;
Wide range of colour options;
Available as a complete system.
Surface Treatment:
Panels are manufactured from pre-galvanised wires.
An adhesion coating is applied to allow perfect adhesion with the polyester coating (min. 100 micron).
Standard Weld Mesh (SWM) Fencing Panels or Rolls with Security Top  
The mesh panels, support posts and toppings meeting the following specifications:
• Type: Standard weld mesh
Weld Mesh Panels:
• Minimum Overall Height: 2600mm plus 300mm buried below ground.
• Width of panels: approximately 2500mm
• Minimum wire thickness: 3mm.
Posts & Fixings 
• Steel posts min 3mm thick
Coatings 
• All metals Hot Dip Galvanised to BS EN ISO 1461 or equivalent.
• Galvanised wire with polyester coating.
Security Topping
• Barbed Tape Concertina/Razor Coil security topping at least 500mm in height to be applied to the top of the fence.
Heavy Gauge Steel Mesh Panel for High Security Fencing Uses
Heavy gauge, narrow aperture weld mesh panels, support posts and security topping meeting the following minimum specifications:
Weld Mesh Panels 
• Minimum Height: 3000mm plus 300mm buried below ground
• Width of panels: approximately 2500mm
• Maximum aperture size: 80 mm x 12 mm (WxH)
• Minimum wire thickness: 3mm.
• All external fixings to be tamper proof
Coatings
• Zinc-Aluminium (95/5) coating. Not to be polyester coated.
Fence Posts and Fittings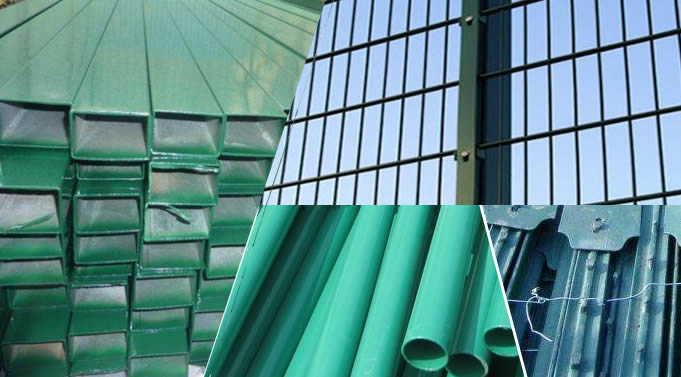 "T" Shape American Type Fencing Post
Fence Post Sizes
Post Length
Colour
0.95lbs/ft, 1.25lbs/ft,1.33 lbs/ft & One Spade with every radix is available
5'-8'
Usual Painted Green
or as the buyers'request specially
Razor Coil Concertina Toppings

Single Coil Razor barbed wire with zinc coating corrosion resisting treatment
Concertina Razor Barbed Wire is usually made of galvanized steel blade or stainless steel blade. Two pieces of razor wires can be bounded together by clips to make it stronger. The spiral intersecting barbed wire presents an intersecting shape after opening with beautiful outlook and practical property.

Using razor barbed wire along welded mesh fence offer the following advantages:
1. High security:
Barbed razor wire fence with the sharp razor guarantees a high quality whilst retaining high security.
2. Long life:
Razor wire material of stainless steel or hot-galvanized makes sure for long life and low maintenance.
3. Easy installation:
Short sections needed for urgent security can be installed extremely fast and with little equipment, allowing repairs to be carried out without compromising perimeter security.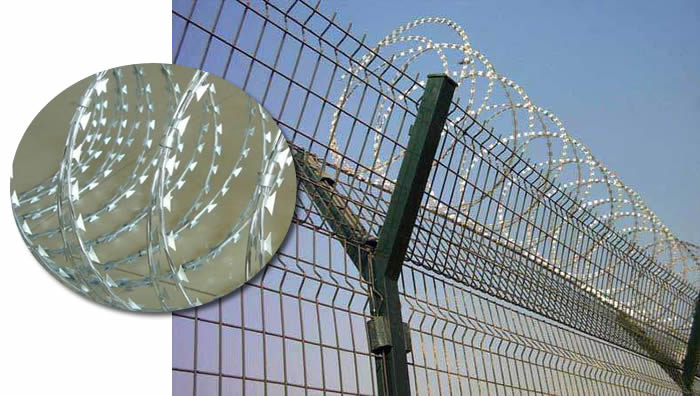 Crossed Concertina wire with razor blades, hot dip galvanized finish, used along curved mesh fence with support of Y post.
Fencing System with Fence Panels 3D Design, Posts, Gates and Spike Bar
Anti Climbing Fence Panels with Curved 3D Design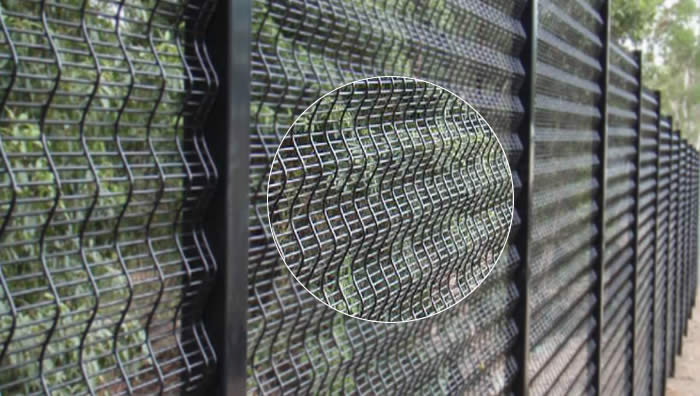 Fence size : 2.4x2.4m width
Hot dipped galvanized wire after welding GAW and long lasting vinyl coated in jet black
Wire diamter : 4mm
Design: 3D design with multiple bends and curves
Hole opening : 12.7x76.2mm
Top rail with spike bar added on top of fence for extra security
Including tamper resistant hardware, brackets and fittings.
Posts
Post: 60x60x2.5mm, 3.5m high
Gate post : 80x80x3.6m
Frame tube :  40x40x2mm
Tamper resistant hardware ( bolts) hot dipped galvanized and vinyl coated in jet black
Cover steel plate (cover for posts) hot dipped galvanized wire + vinyl coated in jet black long lasting
Rectangular post shape to put 1065 mm down into the ground with cement
Gates
Single slide gate : 2.4x2.4m high
Single slide gate : 3.5x2.4m high
Double slide gate : 3.6x2.4m high each side
Including wheels, track, doorstop, door opener, hinge, tamper resistant lock, brackets, roller, ect.
Pedestrian gate : 1.3m x 2.4m high
Spike Bar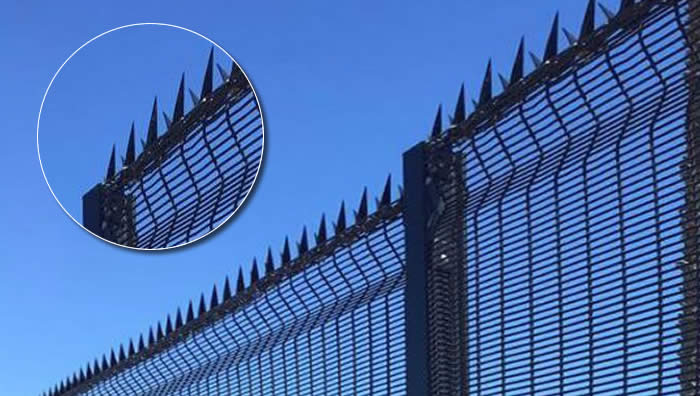 Anti climbing fence top spikes
Barb length 64mm-100mm
Plate thickness 0.8mm-2.0mm
Material: Hot-dipped galvanized steel sheet
Welcome to contact us with your specific requirements.