Overview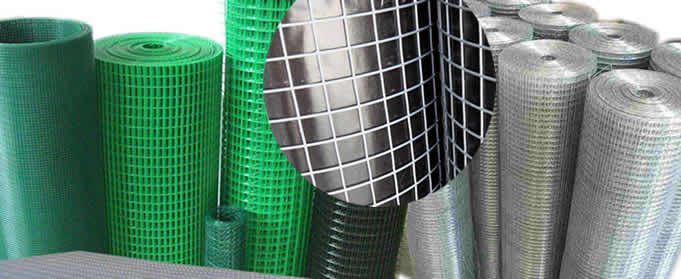 Welded utility mesh rolls and panels are the most versatile products for all types of farm and home applications. The welded mesh rolls are easy for fabricating into various forms of facilities. Some of the popular uses are for making cages, fences, window guards, livestock fencing panels, partitions, corn cribs and temporary fences.
Assortments of Welded Meshes According to Material and Processing:
- Hot Dipped Galvanized After Welding;
- Electro Galvanized Before Welding;
- PVC Coated Galv. Welded Mesh;
- Welded Mesh made of Stainless Steel Wire;
- Non Galvanized Welded Mesh.
Material: Low carbon steel wire, stainless steel wire, galvanized steel wire, PVC / vinyl powder coated iron wire in blue, green, yellow and other colours. Galvanized welded wire mesh is mostly used welded wire products. Supplied in square or rectangular opening.

16 gauge Welded Mesh in 1/2" spacing square hole.
Standard Specification List Applied to General Purpose Welded Wire Mesh
Opening
Wire Diameter(BWG)
In inch
In metric unit(mm)
1/4" x 1/4"
6.4mm x 6.4mm
22,23,24
3/8" x 3/8"
10.6mm x 10.6mm
19,20,21,22
1/2" x 1/2"
12.7mm x 12.7mm
16,17,18,19,20,21,22,23
5/8" x 5/8"
16mm x 16mm
18,19,20,21,
3/4" x 3/4"
19.1mm x 19.1mm
16,17,18,19,20,21
1" x 1/2"
25.4mm x 12.7mm
16,17,18,19,20,21
1-1/2" x 1-1/2"
38mm x 38mm
14,15,16,17,18,19
1" x 2"
25.4mm x 50.8mm
14,15,16
2" x 2"
50.8mm x 50.8mm
12,13,14,15,16

Technical Note:
1,Standard roll length: 30m;width: 0.5m to 1.8m
2,Special sizes available at request
3,Packing: in waterproof paper in rolls. Special packing can be arranged upon customers' request.
Popularly Sold Products:
10 Gauge Square Hole Weld Mesh:
Height: 72"
Pattern: 4" by 4"
Gauge: 10 gauge
Finish: Galvanized ( for outdoor use )
Welded Hot Dip galvanised wire mesh:
The hot dipped galvanized wire must have a tensile strength of 450 to 50 0 N/mm² and the zinc coated must be from 40 to 50 g/m².
84' x 4' x 4' x 20ft in both 10g and 8g.
Galvanised welded mesh with spacing 50mm x 50mm by approx 8mm thick. Galvanised, rigid panel, not flexible.

Welded pre galvanised wire mesh, grid with this specifications:
Caliber: 14
Grid: 1x1 (inches)
width: 1.2 m
Electro-welded


Electro Glavanized Welded Wire Mesh Cloth for Corn Storing

Square Hole Mesh with 1/2" opening
PVC Coated Welded Wire
Used for animal cage. 1/2" spacing or 1" spacing. Colors can be grey, yellow, red, purple, or black. 19 or 16 gauge in either 1" or 1/2" spacing.

Green Coated Welded Wire Mesh Panel, for Container Fabricating, 100mmx100mm x 6mm diameter

Hot Dip Zinc Plated Welded Mesh
Centre to centre distance : 12 mm
Panel width : 4 ft.
Panel length : 10 ft.
Wire diameter: 14 gauge

Centre to centre distance : 50 mm
Panel width : 4 ft.
Panel length : 10 ft.
Wire diameter ; 2.3 mm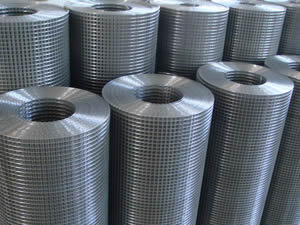 12mm x 12 mm x 14 Gauge Wire Mesh Panel
Welded Mesh Wire Fabricated Utility Products
Assortments according to fabricated forms:

Racking decking panels: pallet racking, mezzanine, cantilever racks, flow racks, stacking racks and various industrial decks and racks.
Steel mesh containers for storage, supermarket, pet control, dog cages, poultry cages, rabbit cages.
Wire carts for shopping in supermarket and logistic uses. Designed with mesh baskets and wheels.
Welded mesh chicken cages for laying of eggs and feed of chicken, with water tanks and egg collection system.
Computer Case Fan Guards: Mainly used to avoid injuries caused by rotating fan blades, keep fans and cables safe from damage, and to ensure safe operation of cooling equipments.
Container and Spiral Wire Form Tomato Cages: Square, Round, Triangle / Cone Trellis and Tomato Planting Spiral Wire Support.
Vine Support Wire Trellis:Square and bevelled vineyard grape trellis support, used for orchards and gardens.
Applications
Hot dip galvanized after welding mesh panels offer surface smoothand uniform mesh, good performance, stability, anti-corrosion, anti-corrosion resistance. Suited for concrete wall plastering and many other uses.

Powder Coated GBW Welded Fencing Mesh Panels: 14 Gauge x 1" x 2" mesh. Ideal for cages for rabbits and other animals, low-cost fencing, kennels and a variety of other uses.

Black welded mesh sheets can be supplied with long & cross wire spacing between 12.5 mm and 200 mm. Wire diameter varies between 0.90 mm to 6 mm.

Stainless steel square hole mesh panels are welded in uniform structure. Widely applications in food industry, building, household, etc.

Black Vinyl Coated Hardware Cloth is used for Chicken Coops, Rabbit Basket, Agriculture, Building, Transportation, Mine, Lawn, Cultivation, Guarding, Architectural Decoration, Machine Protection and Mesh Partitions.

Different designs of mesh carts available.

Loading capacity: 80kgs-160kgs.

Surface treatment: Zinc with epoxy, zinc plated, chrome plated or plastic powdered.

Mesh Containers Fabricated of GAW and GBW Panels. We also supply PVC Coated Welded Wire Mesh for Animal Cages in 1/2" spacing or 1" spacing. Colors can be grey, yellow, red, purple, or black. 19 or 16 gauge in either 1" or 1/2" spacing.

Metal wire decking of American Standards for rack panels construction, used for rack panels, side panels or back panels. 

We supply H frame and Multi Layer Caging System for layer cage, broiler cage and pullet cage. Our chicken farming cages can be used to feed 96 Birds, 120 Birds, 160 Birds, 128 Birds or 200 Birds.

Climbing Vegetables and Plants Support. Galvanised wire support and plastic wire netting available.

Tomato trellis, supplied in 33''×16'', 47''×18''
Tomato twist, supplied in length 36'', 48'', 60'', 72''
Tomato guard, supplied in 4''×6'', 16GA, 48''×20''

We supply equipement cooling fan cover grid and extractor fan guards. The materials can be stainless steel 304 type and ss 316 type, galvanized plus powder coated or painted. Sizes and designs are as per drawing or coming samples.

We supply standard wire mesh gridwall shelving panels and accessories for fixing and storing: wall mount bracket, clamps, grid shelf bracket, gridwall utility hooks, hangrails, etc. Mainly used for store fixture, kitchen organizer, exhibition booth decoration and home decoration, etc.

Welded wire mesh can be fabricated into forms of cages, baskets and containers used for general purpose storage uses. Materials include Galvanized iron mesh; Plastic and vinyl coated steel mesh; Stainless steel welded mesh. The mesh containers are recycled products with popular loading capacity of 500kg, 800kg, 1300kg and 1700kg.
If you need any assistance with products selection, or need more information, please feel free to contact us.